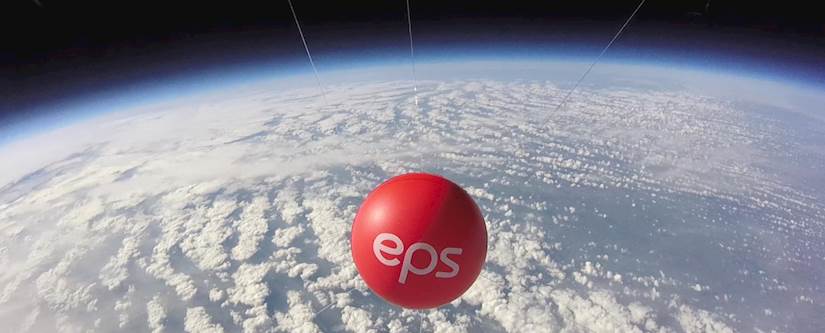 So last week was our long-awaited Space Launch. (For those of us being technically correct here, we're talking about near space – not actual space, otherwise we'd have had to spend a lot more time and money than we did on the project...)
It has long been a dream of one of our directors, (WILL!) to get something into space. When he approached me with this idea, I laughed in his face and told him to get on with some real work. I am glad to say though, that on being persuaded to look into it, it seemed pretty doable.
We decided to try this team-building event to celebrate our 15th birthday!
That was almost five months ago. But waiting for treats always makes them that much sweeter right?
Having thought that we'd be forced to launch from North Wales when we're based in Cambridgeshire, a last minute change of wind direction really helped us out and we were able to launch locally.
You use a giant helium-filled weather balloon with a payload attached and a GoPro to take lovely video of whatever object you like (within reason) over the curvature of the Earth. Once it reaches a height where the air pressure becomes too low, the balloon explodes and the payload floats back to Earth on a whimsical combination of gravity and a lovely orange parachute. It's not fancy, it's not pretty (or at least not in our case) but it's functional and really, if it works, it works!
We set out after (a lot of) setbacks, to launch locally and inadvertently managed to find the windiest spot in the area on a relatively still day. Still, perseverance prevailed and we launched relatively successfully. An anxious wait followed: Would the whole thing get to the edge of space or just be stuck or burst before then? Would the parachute work and the payload land without too much damage? Would the GPS trackers work? Would they have signal to text the landing location to us? Would the whole thing actually be retrievable? And would we find it?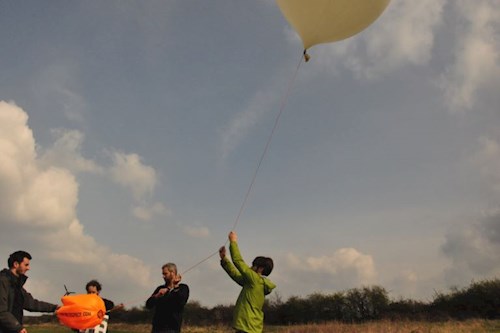 Using the clever online predictor tool on Habhub, the estimate shortly after launch was that the payload would land near a village just north west of Milton Keynes, so we drove over there. In terms of flight time we had calculated roughly 2½ - 3 hours total, so as we neared the village, we rung the GPS tracker which rang a couple of times and then hung up (that's a good thing). We waited to see if it would send its location and, to our delight, it did just that. Tested a few more times with a few minutes allowed in between (in case it was still in descent) and it was definitely in a farmer's field just a few hundred yards from the M1!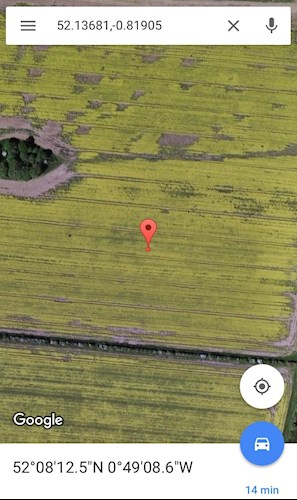 Having gained permission, we entered the field and there it was, landed and not looking too much worse for wear!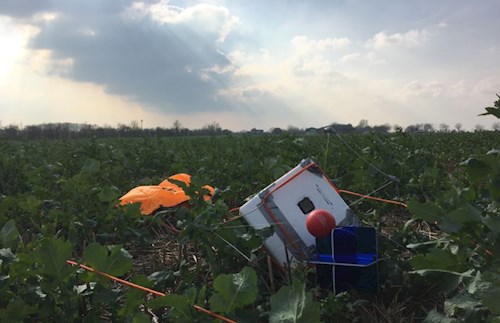 Now for the main question – had the camera captured all the footage we wanted or had we forgotten to switch it on?? We plugged in the memory card with some trepidation, the footage had been recorded, and not only that but we'd managed not to obscure the focal point at some time during the excessively windy launch! Success! Beautiful film captured of the entire journey our little stress ball took, including some spectacular shots of the Earth!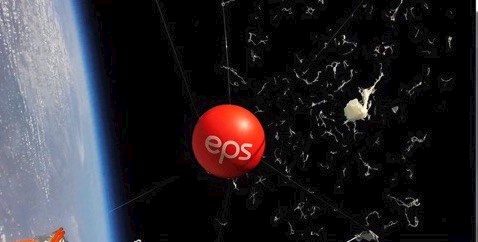 We bought our materials from a brilliant company called Sent Into Space who are really helpful guys so thank you very much to them, as well as to the people at the Civil Aviation Authority who put up with a heck of a lot of changes to our plan and gave advice where needed.
Finally thanks to all our own staff involved in the building, launch, and recovery of the payload, as well as the rest for their support. It's really been a journey.
And now to plan our next space venture!